4. Sole guards (optional)
This is a thin protective rubber sole which is applied to the top of the existing sole to prevent it from wearing out. It also protects the stitching on the soles as well as being nonskid and waterproof. Sole guards also slightly cushion the walk. If applied properly, sole guards can barely be noticed from the side of the shoe. They are the approximate thickness of a penny and in most cases, will actually outlast the factory or replacement sole. They are also much less expensive to replace. For best results, sole guards should be applied to new or firm soles. Do not use them if your soles are already 'spongy' or soft.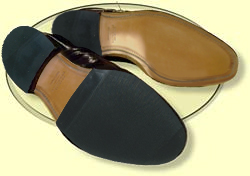 5. Shoe Trees (cedar only)
Cedar wood has an appealing aroma and is very dry in nature. This helps absorb any moisture in the shoe from perspiration or rain seepage. Shoe trees should be installed immediately after removing your shoes; they should dry naturally and not be left near any heat, The trees will also insure that your shoes will dry to their original shape and will help protect the lining as well as the uppers. Always alternate your footwear at least every other day to allow the trees to settle inside your shoes and absorb even the slightest moisture before wearing them again. Never use shoetrees made of plastic material or shellacked wood. Instead of absorbing moisture, those materials will actually drive the moisture back into the liner, which will lead to a premature deterioration of the leather.
Always wear them in inclement weather.
The object is to keep the leather as dry as possible, and restore the oils with creams and polish on occasion. If you follow these few maintenance procedures, you will be pleasantly surprised at how much life your expensive shoes will have in them.