Most Cowboy boots are resoled with half soles...
"I wouldn't put half soles on my own boots, therefore you can be sure that I wouldn't put them on yours"
Nick Valenti
President of B. Nelson Shoe Corporation
Our Cowboy Boot Recrafting Process
As in all of our high-grade footwear recrafting, we use the factory method on Cowboy boots. Each pair of boots is fitted with the correct last before the sole is removed. Cork footbeds are stripped and reapplied. Shanks are tightened or replaced. Even the welts and heel bases are replaced when necessary.
We use a minimum of 22 steps in order to complete our Cowboy boot recrafting process. This process is very detail oriented; we actually pre-groove a channel in the new sole before stitching it on. This allows the stitching to lie below the surface of the new sole giving you maximum wear on your newly recrafted boots.
Wood pegs and brass tacks are used in the rolled shank area in order to duplicate the original production of the boot. The reason that wood and brass are used as opposed to nails is because nails will rust and the rust will cause the leather around it to break down.
Finally, the lasts are removed, new leather pads are installed inside the heel area, and the uppers are treated with waterproof and refinished.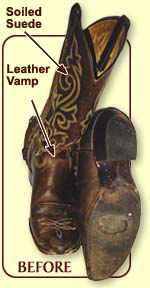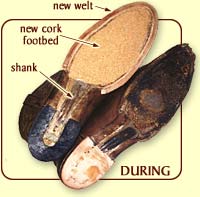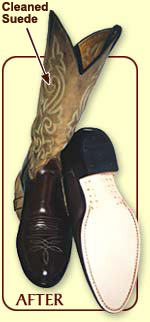 To order a free postage paid shipping package: call, email, fax or write to:
B. Nelson Shoe Corp
140 East 55th St.
New York, New York 10022
Phone: (212) 750-0818
Email: mastercraftsman@bnelsonshoes.com
Store Hours: Monday – Friday 7:30-5:00pm EST.
Or to save time, simply print out our Priority Mail Label by clicking the button above and attach it to a box and leave it with your outgoing mail or drop it in a mailbox.